Intro
FECO (full extract cannabis oil) and RSO (Rick Simpson Oil) are highly-concentrated forms of cannabis in which the whole plant is extracted and used. This process offers a broad spectrum or full-spectrum representation of the full cannabinoid and terpene profile found in that cannabis strain or cultivar. The main difference between FECO and RSO ultimately boils down to the solvent used when the cannabis is processed during the extraction process. 
Other than the choice of solvents used, the full extraction of cannabinoids for both RSO and FECO is roughly the same. The extraction process with solvents is relatively simple. Raw cannabis flower is placed in a solvent and the trichome heads in the liquid separate from the plant material. The solvent is then purged or evaporated off in a desiccator, vacuum pump, or vacuum oven which creates a pure resin extract.
What is FECO?
The traditional method for FECO (full extract cannabis oil) uses ethanol to extract all the terpenes, cannabinoids, THC/CBD, and other beneficial elements found in cannabis. FECO is produced at low temperatures and is often extracted utilizing ethanol or CO2 as a solvent. Through the use of this process, more of the cannabinoids are retained in the remaining resin extract. 
What is RSO?
RSO (Rick Simpson Oil) on the other hand, uses naphtha. RSO is typically produced at higher temperatures and traditionally utilizes either alcohol or naphtha as a solvent. With high temperatures being used to boil off the solvent, many of the plant terpenes are lost in this process. However, RSO does typically retain a greater amount of chlorophyll and the less evaporative plant compounds. This can result in an end product with very high levels of cannabinoids. 
What are the potential benefits?
Depending on your particular needs, one product may work better for you than another. Both RSO and FECO are used for their health benefits for individuals who need regular pain management, chronic ailments or inflammation. As the strongest medical cannabis product on the market, FECO oil and RSO oil also provide what's called "The Entourage Effect". With over 500 chemical compounds in cannabis, there are roughly 100 that are related to cannabinoids. Many medical researchers are discovering and suggesting that complete cannabinoid and terpene profiles found in a single product, can have some therapeutic value and benefits. Stating that they have a synergistic effect that aid each other.
The recommended serving size for each product is a rice-grain-sized dose. Since the products are a cannabis concentrate, they can be taken orally, like applying directly underneath the tongue or add to a beverage, topped on food, or baked into a recipe. RSO may be ingested orally through a capsule, mixed into food or drink, or consumed as is. It may also be diluted with an ointment or lotion for topical absorption.
Summary
While FECO oils and RSO oils are considered to be extremely beneficial and helpful for people with severe illnesses, such as cancer, fibromyalgia, anxiety, PTSD, epilepsy, and other conditions, they are not the right choice for everyone. Both RSO oil and FECO oil are stronger than other cannabis oils, and many patients should start with a very small dosage to understand how it affects them. A secondary choice would be looking into CBD / THC oil products.
Staff Picks
Madeline / Low  Tolerance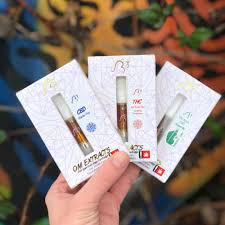 For FECO I have found that OM EXtracts produces an extremely high-quality product, that offers quick relief when I need it the most. I personally enjoy the FECO Sour Space Candy that is a 9:1 CBD to THC. They also have a 5:1, 14:1, and a 29:1 that I would highly recommend.
Krista / Budget Friendly Finds
I would go with Stash RSO because of the quality oil and lower price 
point. It offers full-spectrum
benefits in a more potent concentrated oil that can be approached topically, ingested directly or diluted with food or drink.
Anthony / High Tolerance

I greatly enjoy Siskiyou Sungrown RSO. They were the first brand to bring Rick Simpson Oil to the cannabis market in Oregon. They use great bio-mass for their product.
Customer Recommendation
I personally prefer using a combination of the two types of concentrates for medicating. I prefer the FECO for daytime use as I find that when I consume a greater amount of pain-alleviating terpenes I don't need as many cannabinoids throughout my day. However, I do prefer using RSO at night, for its high level of cannabinoids and chlorophyll, both of which help modulate the body's inflammatory responses.