A Maryland House of Delegates committee has advanced an amended bill containing proposed rules for legal marijuana sales and production in the state, a policy change approved by nearly two-thirds of voters through a ballot referendum last year.
The measure is intended to prepare Maryland to regulate cannabis commerce as the new state law, which will allow adults to possess up to 1.5 ounces of marijuana and two grow plants at home for personal use on July 1.
Before approving the bill at a hearing Thursday evening, the House Economic Matters Committee adopted dozens of changes in a lengthy reprint from the sponsor, Del. C.T. Wilson (D), who also chairs the panel. In addition to many minor, technical amendments, the bill as approved also contains revised provisions on delivery, incorporating medical marijuana businesses into the new adult-use system and how the industry's regulatory body and social equity office would be structured.
Lawmakers voted 16–5 to advance the bill, HB 556, with three members excused.
The committee had previously heard the proposal and public testimony during a hearing last month, at which point Wilson gave opening remarks on the bill's intent.
He told colleagues at the time that he's "not here to create a cash cow for the state or produce a marketplace for intoxicants." Rather, he said, lawmakers are trying to "regulate this so we can have a safe usage and basically get rid of the black market through proper oversight" as well as "keep Marylanders safe if they choose to partake."
A companion bill on the Senate side, SB 516, sponsored by Sens. Brian Feldman (D) and Antonio Hayes (D), is scheduled for a committee hearing next Thursday.
—
Marijuana Moment is tracking hundreds of cannabis, psychedelics and drug policy bills in state legislatures and Congress this year. Patreon supporters pledging at least $25/month get access to our interactive maps, charts and hearing calendar so they don't miss any developments.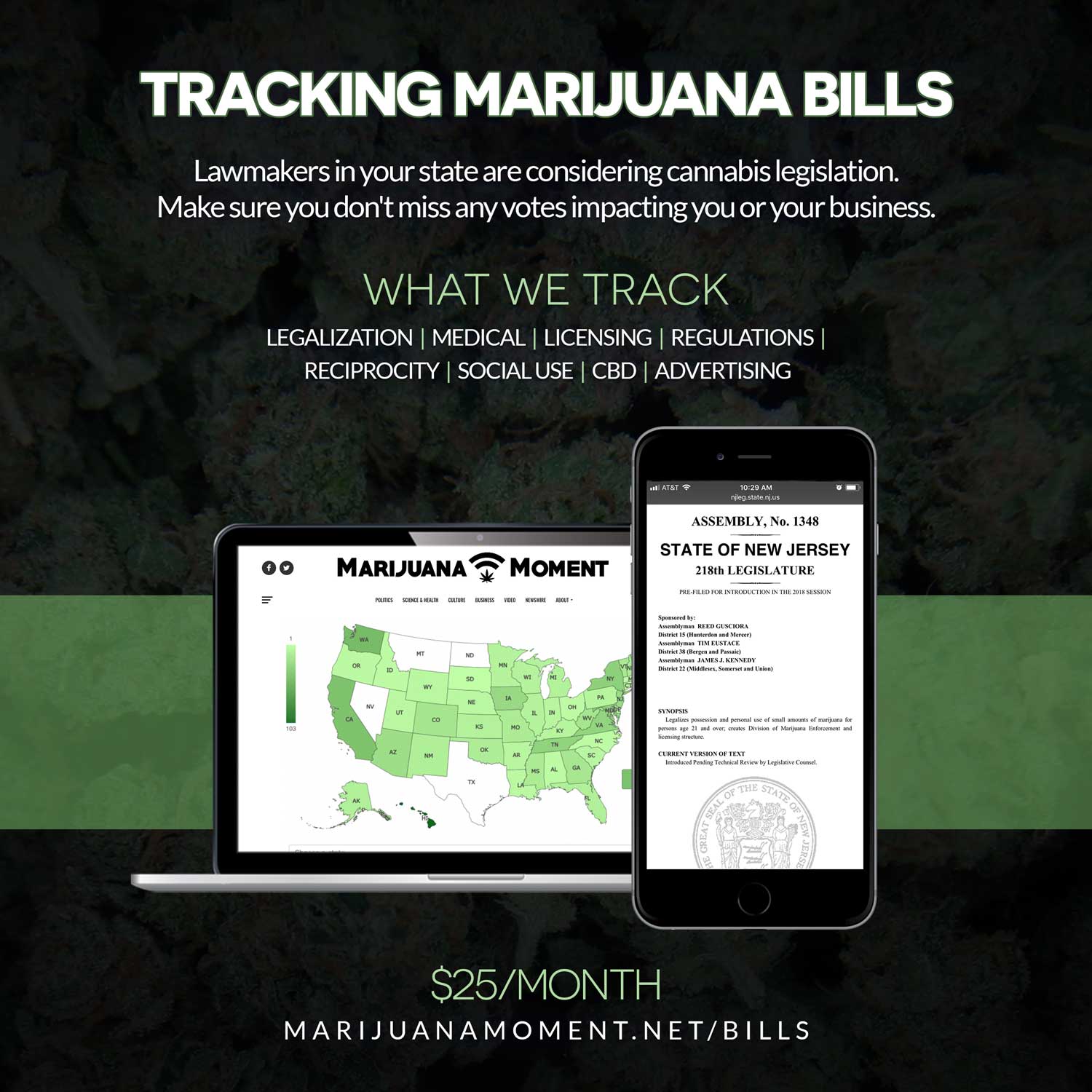 Learn more about our marijuana bill tracker and become a supporter on Patreon to get access.
—
Amendments adopted by the House panel on Thursday touch various aspects of the new program. Although many are technical and some may not be felt by end consumers, some of the more substantial changes affect the membership of various advisory and regulatory bodies, allow businesses to sell clones and other cultivation equipment to grow cannabis at home, provide definitions around the law's social equity licensing program, adjust the rollout of cannabis delivery in the state and clarify how existing medical marijuana businesses can merge into the new regulated system.
Further changes are expected as the bill makes its way through the House this session, which could modify or undo the new amendments. Moreover, because the House bill now differs from the Senate legislation, some of Wilson's new changes may not last even if approved on the chamber floor.
"My understanding is there are a few of these things where we fully expect the Senate to put them back in," committee staff acknowledged at one point while briefing the panel at Thursday's meeting, referring to an amendment that deleted portions of the bill's civil immunities and liabilities section.
Ultimately the two chambers will need to agree on the new rules for the legal market, and because the bill is considered emergency legislation that would take effect immediately, it must be approved with three-fifths of the vote in both the House and Senate to be enacted.
Here's what HB 556 would accomplish: 
Cannabis would be taxed at six percent for the first fiscal year starting this summer. It would increase by one percent each year until 2028, maxing out at 10 percent. Medical marijuana patients would be exempt from the tax.
Thirty percent of marijuana tax revenue would go toward a community reinvestment fund for at least the next 10 years. The bill further calls for 1.5 percent of revenue to go to localities and another 1.5 percent each for a Cannabis Public Health Fund and the Cannabis Business Assistance Fund. An amendment added Thursday would also give 1.5 percent to counties.
The Marijuana Alcohol and Tobacco Commission would be renamed as the Maryland Alcohol, Tobacco and Cannabis Commission, which would be responsible for regulating the program. Under existing law, the leader of that commission must be a sworn police officer. An amendment added to the bill Thursday would remove that requirement.
Under the commission, there would be a Division of Cannabis Regulation and Enforcement that would be tasked with reviewing and issuing marijuana business licenses.
The bill proposes to cap the total number of license types: 75 standard growers, 100 micro-cultivators, 100 processors, 300 retailers, 10 incubator spaces and 50 on-site consumption facilities. The original bill also referred to 200 delivery services, but an amendment Thursday appeared to strike that provision, with staff explaining that delivery would be instead be handled separately under so-called micro-dispensary licenses. A further change rolls out a small portion of certain licenses through a pilot program.
The first marijuana licenses would need to be issued by January 1, 2024.
A 15-member advisory committee would be created to advise and make recommendations to the division.
There would also be an Office of Social Equity to promote industry participation and provide technical assistance for people who've been disproportionately impacted by criminalization. An amendment adopted on Thursday defines disproportionately impacted areas as those that have experienced more than 150 percent the state's average cannabis possession charge rate over the past 10 years.
The social equity office would additionally be charged with working with the state comptroller and the Maryland Department of Commerce to determine how best to distribute marijuana tax dollars for the community reinvestment fund.
Existing medical cannabis dispensaries would be converted into dual licensees at the same time that legalization takes effect on July 1 if they've paid a fee. Regulators would need to start approving additional marijuana business licenses by July 1, 2024.
Social equity applicants would need to have 65 percent ownership by people who have lived in disproportionately impacted areas for at least five of the past 10 years, attended public school in such an area for at least five years or meet other criterial based on a disparity study. An amendment from Thursday added eligibility for people who attended for at least two years either an HBCU or one of certain other institutions of higher learning in the state.
A Capital Access Program would be created to promote industry opportunities for social equity applicants and provide low-interest loans.
An amount of $5 million would be appropriated annually for grants to existing medical cannabis dispensaries that form "meaningful partnerships" with social equity applicants that involves mentorship, training and/or shared business space.
Localities could not impose additional taxes, nor could they prohibit existing medical cannabis businesses that convert to dual licenses from operating in their area. A new amendment also prohibits localities from imposing licensing, operating or other fees or requirements that are greater or more burdensome than businesses "with a similar impact on the area," according to a staff description of the change.
Medical cannabis patients would be able to grow up to four plants for personal use, rather than two under the current law. An amendment adopted on Thursday adds language to allow both adults and medical patients to purchase plants and other cultivation supplies through the licensed market.
As approved Thursday, existing medical marijuana businesses would have the option to either convert to a dual-market retailer, selling products to both adults and medical patients, or sell their license to another operator. Wilson described the transition as "a weird kind kind of voluntary system, because they're not required [to convert], but they know there will not be a medical marijuana market after July 1. Meaning if they choose not to convert, well, they'll have a license but they cannot operate."
Senate President Bill Ferguson (D) said earlier this year that he believes the legislation "has the possibility of being a national model."
"It's a complex topic. There's a lot of different pieces. No state has gotten it right," Ferguson said. "And so what I do believe we've done effectively here is put us on the best path possible."
A spokesperson for Gov. Wes Moore (D) said earlier this year that the governor considers the proposal "a well-crafted piece of legislation and is looking forward to future collaboration with the legislature."
Members have held numerous meetings to inform future regulations following Maryland voters' approval of a legalization referendum during last year's election, which triggered the implementation of complementary legislation covering rules for basic policies like possession and low-level home cultivation.
In addition to legalizing the purchase and possession of up to 1.5 ounces of cannabis for adults starting this summer, the legislation will also remove criminal penalties for possession of up to 2.5 ounces. Adults 21 and older will be allowed to grow up to two plants for personal use and gift cannabis without remuneration.
Past convictions for conduct made legal under the proposed law will be automatically expunged, and people currently serving time for such offenses will be eligible for resentencing. The legislation makes it so people with convictions for possession with intent to distribute can petition the courts for expungement three years after serving out their time.
Parts of the referendum took effect at the beginning of the year. Possession of up to 1.5 ounces of cannabis became a civil offense, punishable by a $100 fine, with a $250 fine in place for more than 1.5 ounces and up to 2.5 ounces.
Adult-use legalization began to advance through Maryland's legislature in the 2021 session, but no votes were ultimately held. The Senate Finance Committee held a hearing that year on a legalization bill, which followed a House Judiciary Committee hearing on a separate cannabis proposal.
Maryland legalized medical cannabis through an act of the legislature in 2012. Two years later, a decriminalization law took effect that replaced criminal penalties for possession of less than 10 grams of marijuana with a civil fine of $100 to $500.
White House Reviewing Marijuana Pardon Certificate Application
The post Maryland House Committee Advances Bill To Regulate Marijuana Sales With Amendments appeared first on Marijuana Moment.