Another Minnesota Senate committee approved a bill to legalize marijuana in the state on Tuesday, bringing the total number of panels in the chamber to advance the legislation so far this session to six.
The Health and Human Services Committee passed the legislation from Sen. Lindsey Port (D) in a voice vote. The panel began considering the legislation and adopted several amendments last week but ran out of time to complete its work, necessitating the follow-up meeting on Tuesday.
"This is not something we are flippantly moving without thought. This is something we're taking very seriously," Port told committee members ahead of the vote. "We're taking it seriously because it has done significant harm to our communities—the prohibition of cannabis has done significant harm to our communities. And we see it as critical that we do what we can to undo that harm."
With majorities in both the House and Senate and control over the governorship this session, Democratic-Farmer-Labor party officials are confident that legalization will be enacted in short order following the extensive committee consideration.
The governor recently released his biennial budget request, which included proposed funding to implement marijuana legalization and expungements, and made projections about the millions of dollars in cannabis tax revenue that his office estimates the state will earn after the reform is enacted.
Gov. Tim Walz (D) discussed his proposal in a recent interview, explaining why he's calling for a tax rate on marijuana sales that's nearly double that of the bill that's advancing in the legislature.
That legislation is an iteration of the 2021 House-passed bill from former Majority Leader Ryan Winkler (D), who now serves as campaign chairman of the advocacy coalition MN is Ready. That group announced last month that it would be lobbying for the measure while leading a grassroots effort to build support for reform.
The governor has called on supporters to join lawmakers and the administration in their push legalize marijuana this session, and he circulated an email blast last month that encourages people to sign a petition backing the reform.
Much of the revised bills that are advancing through committee are consistent with Winkler's legislation, though there are a few key changes, in addition to the newly adopted amendments. For example, it adds a new license category for businesses that sell "lower-potency edible products" under Minnesota's unique THC law that the governor signed last year.
There would also be reduced regulatory requirements for those licensees, and they'd be able to permit on-site consumption if they have a liquor license, which is meant to ensure that shops currently selling low-THC beverages and edibles don't face disruption.
At its Tuesday meeting, the Senate committee adopted several amendments.
One approved change from Port would require cannabis products to have warning labels about their effects on people under the age of 25.
Another amendment from the sponsor would require cannabis products to be inaccessible to children and stored away from foods and direct officials to collect data from state courts and hospitals to determine whether there is an increase in utilization of mental health and substance use disorder services and emergency room visits following legalization. It would also direct that funds appropriated under the bill be used to adopt evidence-based and culturally informed treatment programs and services with a focus on peer-to-peer education and recovery specialists. It would additionally remove provisions creating a new Substance Use Disorder Advisory Council and charge the commissioner of human services with developing treatment programs rather than give that responsibility to the health commissioner as would be the case under the original bill.
A third adopted amendment from Port makes a technical fix to add the missing word "recovery" to a section of the bill about grants that are created and funded by the legalization bill
An amendment that would have changed the legal age for marijuana from 21 to 25 was defeated, and a proposal to require officials to collect data on outcomes in tribal communities was withdrawn by its sponsor.
The panel separately adopted a number of amendments at its earlier hearing last week, including several from Port.
One of the sponsor's changes would make it so hospitals and medical facilities cannot "unreasonably limit a patient's access to or use of medical cannabis," remove restrictions on when patients with certain conditions can qualify for medical marijuana, declare patient registrations to be permanent instead of lasting for only one year, delete a provision prohibiting medical cannabis consumption "on the grounds of a child care facility or family or group family day care program" and require child care facilities to inform parents or guardians if they permit such use on the premises.
Another of her amendments would add the commissioner of human services and two licensed mental health professionals to the Cannabis Advisory Council, require an additional warning to marijuana products that includes the phone number of the Minnesota Poison Control System, add a provision to appropriate funding to the Poison Control System and allow the Department of Health to enforce laws related to edible cannabinoid products.
Other Port amendments would delete a provision stating that "the registration or reregistration period of a medical cannabis manufacturer expires on July 1, 2024," clarify that cannabis event organizers cannot permit marijuana smoking in any area where tobacco smoking is not allowed, replace references to substance use "disorder" with a focus on "recovery" when describing the scope of grants that are created and funded by the legalization bill, substitute references to "artificially" derived cannabinoids with the word "synthetically" and prohibit people from smoking or vaping marijuana in areas where minors could inhale the residue.
Approved amendments filed by other lawmakers would require officials to collect data on trends in hospital treated cannabis poisoning and adverse events and add experts in toxicology, pediatric medicine and adult medicine to the Cannabis Advisory Council and the Substance Use Disorder Advisory Council.
The sponsor of another amendment that would have required that 20 percent of marijuana revenues in the general fund be transferred to the substance use disorder treatment and prevention grant account chose to withdraw the proposal.
The bill's next stop for the bill is the Senate Human Services Committee on Wednesday. On the House side, the Public Safety Finance and Policy Committee is scheduled to take up that chamber's proposal on Thursday.
Here are the main components of the revised marijuana legalization bills, HF 100 and SF 73:
Adults 21 and older could purchase up to two ounces of cannabis and cultivate up to eight plants, four of which could be mature.
They could possess up to two ounces in a public place and up to five pounds in a private dwelling.
Gifting up to two ounces of marijuana without remuneration between adults would be permitted.
It would promote social equity, in part by ensuring that diverse licensing by scoring equity applicants higher.
Prior marijuana records would also be automatically expunged. The Bureau of Criminal Apprehension would be responsible for identifying people who are eligible for relief and process the expungements.
In addition to creating a system of licensed cannabis businesses, municipalities and counties could own and operate government dispensaries.
On-site consumption permits could be approved for events, and cannabis delivery services would be permitted under the bill.
Unlike in many legal states, local municipalities would be banned from prohibiting marijuana businesses from operating in their areas, though they could set "reasonable" regulations on the time of operation and location of those businesses.
Retail cannabis sales would be taxed at eight percent. Part of that revenue would fund substance misuse treatment programs, as well as grants to support farmers.
A new Office of Cannabis Management would be established, and it would be responsible for regulating the market and issuing cannabis business licenses. There would be a designated Division of Social Equity.
People living in low-income neighborhoods and military veterans who lost honorable status due to a cannabis-related offense would be considered social equity applicants eligible for priority licensing.
The legislation as revised fixes an issue in current statute that prohibits liquor stores from selling THC products.
It also contains language banning synthetic cannabinoids, which is consistent with Board of Pharmacy rules put into place last year.
The House panels that have passed the legislation in recent weeks are the Health Finance and Policy Committee, Education Finance Committee, Human Services Policy Committee, Workforce Development Finance and Policy Committee, Agriculture Finance and Policy Committee, State and Local Government Finance and Policy Committee, Labor and Industry Finance and Policy Committee, Environment and Natural Resources Finance and Policy Committee, Judiciary Finance and Civil Law Committee and Commerce Finance and Policy Committee.
The Senate committees that have signed off so far are the Environment, Climate, and Legacy Committee, Agriculture, Broadband, and Rural Development Committee, Jobs and Economic Development Committee, Commerce and Consumer Protection Committee and Judiciary and Public Safety Committee.
—
Marijuana Moment is tracking hundreds of cannabis, psychedelics and drug policy bills in state legislatures and Congress this year. Patreon supporters pledging at least $25/month get access to our interactive maps, charts and hearing calendar so they don't miss any developments.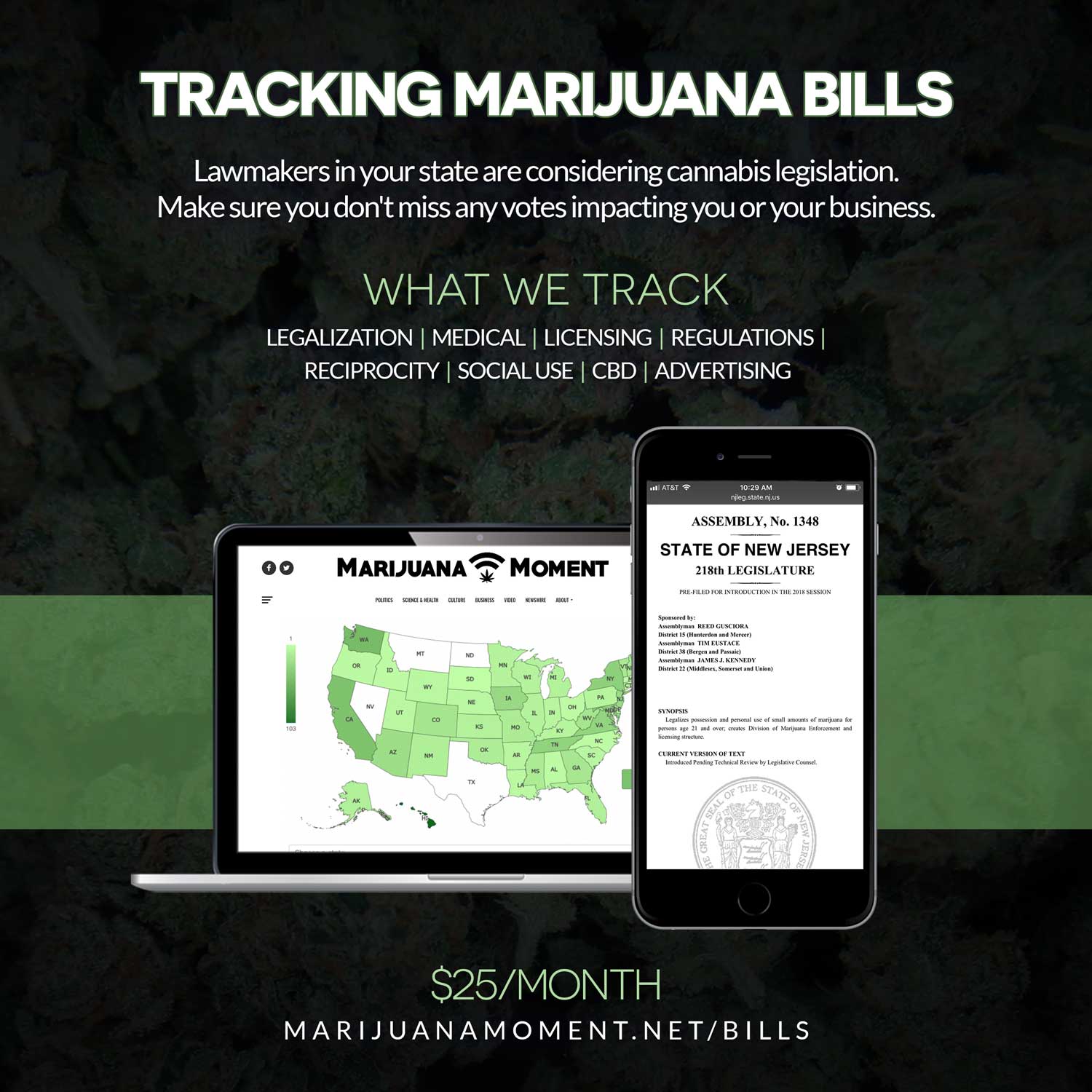 Learn more about our marijuana bill tracker and become a supporter on Patreon to get access.
—
Lawmakers and the governor have expressed optimism about the prospects of legalization this session, especially with Democrats newly in control of both chambers, whereas last session they only had a House majority.
Following their election win in November, Democrats internally agreed to discuss the issue imminently.
House Speaker Melissa Hortman (D) said recently that she expects cannabis reform to be included in the governor's forthcoming budget request, though she reiterated that the reform "will take a long time" to move through the legislature.
While marijuana reform was excluded from a list of legislative priorities that Democrats unveiled last month, Hortman said that the issue is "a priority," albeit a "very big, complicated."
The governor included funding for implementing legalization in his last executive budget request, but lawmakers were unable to enact the policy change. He and Hortman have differing opinions about how quickly the issue can advance this session, however, with Walz recently saying it would be done "by May" and the speaker indicating it could take until next year.
Winkler told Marijuana Moment that he agrees with the governor, saying "it is likely that [passing legalization] will be done by May."
"The reason is that the legislature adjourns until next year at the end of May, and so if they don't do it in that timeline, it'll take another full year—and I don't think anything will be improved or bettered by waiting," he said. "So it's in everyone's interest to get this bill passed."
Two polls released in September found that the majority of Minnesota residents support adult-use marijuana legalization—and one survey showed that even more Minnesotans approve of the state's move to legalize THC-infused edibles that was enacted earlier this year.
A survey conducted by officials with the House at the annual State Fair that was released in September also found majority support for legalization. That legislature-run poll found that 61 percent of Minnesotans back legalizing cannabis for adult use.
Support was up this year from 58 percent when the House Public Information Services polled fair goers on the issue in 2021. In 2019, the House poll found 56 percent support for legalization.
White House Approval Sought For Changes To Marijuana Questions In Federal Hiring Process
The post Another Minnesota Senate Committee Approves Marijuana Legalization Bill appeared first on Marijuana Moment.